Tokyo, JAPAN, November 15, 2023 — COVER Corporation (Minato-ku, Tokyo, Japan, CEO: Motoaki Tanigo) announced the release of new merchandise of hololive Meet 2023 Ambassadors in official partnership with Tokyo Otaku Mode Inc..

The new merchandise will be available on the first day of Anime NYC from Friday, November 17th, 2023.

Tokyo Otaku Mode, hololive Meet 2023's Official Partner, will release original merchandise featuring Sakura Miko (hololive), Kureiji Ollie (hololive Indonesia), IRyS (hololive English), Yukoku Roberu (HOLOSTARS), and Regis Altare (HOLOSTARS English) who have been appointed as hololive Meet 2023 Ambassadors. Also for the first time ever, there will be Friend A ("A-chan") merchandise available. The merchandise will be based on the key visual illustration by Pisuke and Ordan.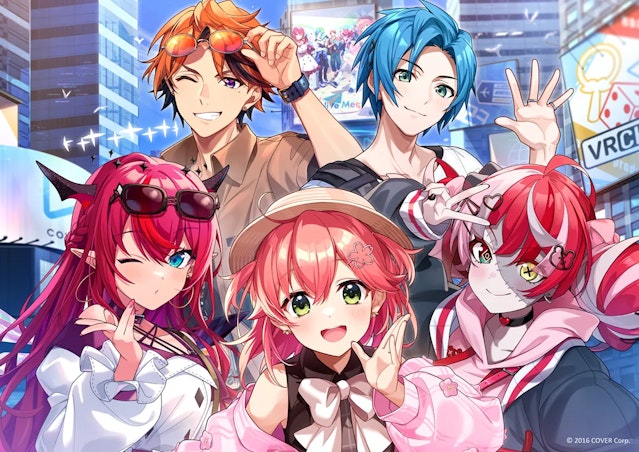 The new merchandise will be available for pre-order on the Tokyo Otaku Mode online shop from Thursday, November 17th from 3:00AM (EST) / 0:00AM (PST). Selected items will be available at the Kinokuniya Bookstore booth at Anime NYC Powered by Crunchyroll, and at Kinokuniya overseas stores outside of Japan, as well as selected stores in Japan.

Tokyo Otaku Mode Online Shop
Order Period : From Friday, November 17th, 2023 from 3:00AM (EST) / 0:00AM (PST)
Website : https://otakumode.com/shop/pickup/hololive_meet2023

Anime NYC Powered by Crunchyroll
Event Dates : November 17th – 19th, 2023
Venue : Javits Center
Exhibit Number : #333 (Kinokuniya Bookstore Booth)
Website : https://animenyc.com/

Kinokuniya Overseas Stores
Sales start at Kinokuniya overseas stores in (in alphabetical order) Australia, Malaysia, Singapore, Taiwan, Thailand, United Arab Emirates, and the United States after November 16th, 2023.
Website: http://www.kinokuniya.com

Product Lineup
■hololive Meet Acrylic Stand


This acrylic stand features the new visuals of each of the Ambassadors with hololive production staff A-chan. The stand has their emblem and their fandom names, and is perfect to keep around your desk, nightstand, and anywhere you want.

■hololive Meet Tradable Tin Badges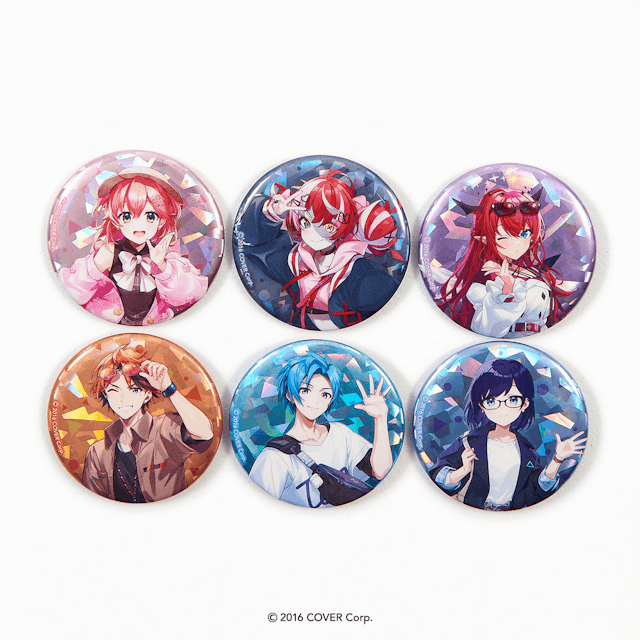 These are tradable tin badges of the Ambassadors and Friend A that use the second round of originally drawn visuals for hololive Meet. The backgrounds are gorgeous holograms. The products are tradable and you will randomly receive one of the six people. We also have complete sets available.

■hololive Meet Travel Sticker Set (Set of 5)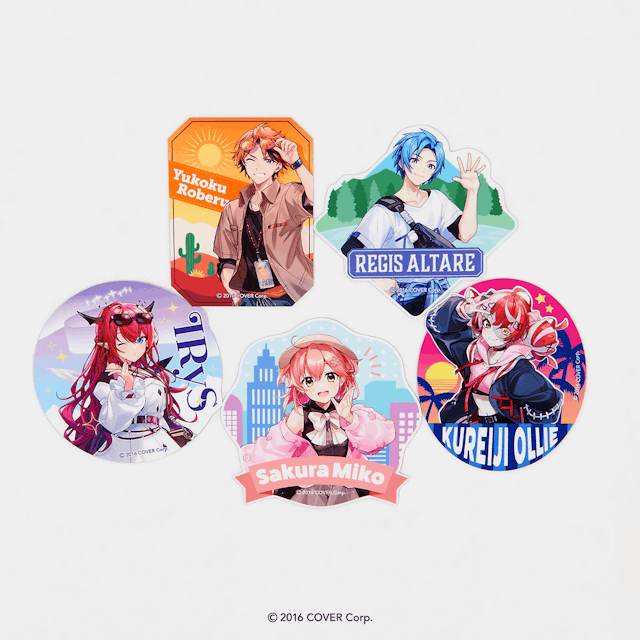 This travel sticker set shows the five Ambassadors traveling through various areas.
You can enjoy sticking them on not only your suitcase, but also your laptop, notebooks, etc.

■hololive Meet B2 Slim Tapestry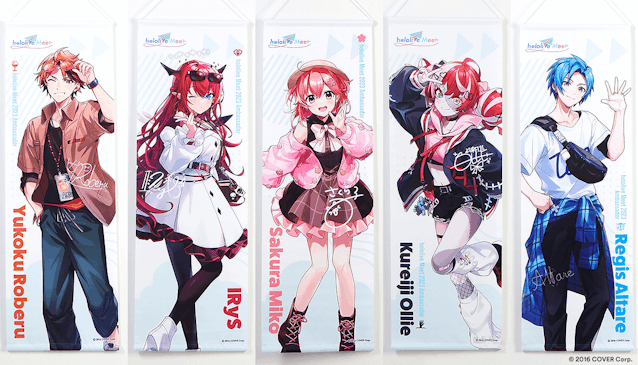 The B2 size tapestry that features the second round visual of the five Ambassadors has icons and signs her fans will recognize. You can enjoy the sight of the Ambassador greeting you from their travel destination whenever you like!

■hololive Meet Postcard with Handwritten Message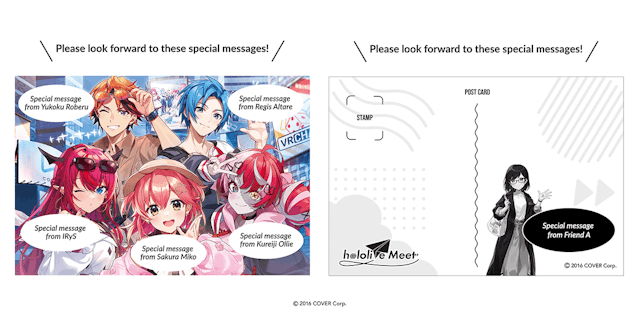 This postcard of the second round visual is like a commemorative photo that has arrived from the ambassadors' destination and even has handwritten comments from the ambassadors for their hololive Meet friends around the world. The back also has a message from Friend A! Enjoy finding out what the six wrote after you receive the postcard!

.*The handwritten messages are originally designed for this product and are printed.

■hololive Meet Trading Cards


These trading cards have the first and second round visuals for each of the ambassadors and Friend A, a hololive staff member. You will randomly receive one card from eleven types (5 Ambassadors x 2 types each + Friend A). Enjoy the visuals, which are scenes from the Ambassadors' travels.

■hololive Meet Phone Tab & Strap Set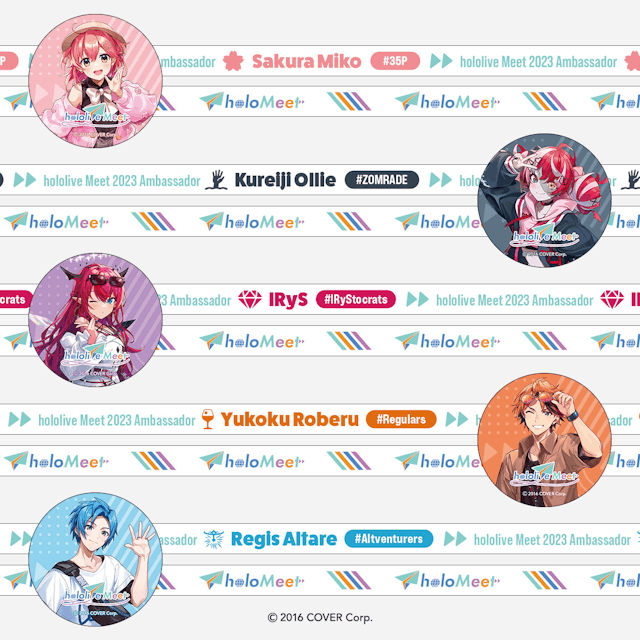 This phone tab of the hololive Meet Ambassador comes as a set with a strap that has their name, fandom name, and hololive Meet logo printed fashionably on it. By combining the set with a clear smartphone case, you can carry them with you everywhere.
*The strap can be lengthened with the adjuster.
*Does not come with the smartphone case.